Today, my mom, grandma and I took little miss Avery to the movies. It was her very 1st time and it was so much fun. We took her to see Ice Age-Dawn of the Dinosaur and it was a cute movie.
We got there, got our tickets and headed inside. When you first walk in there are lots of lights and games and her face was priceless!! I wish I could have caught it on camera. She was just taken back by everything. We took her to the concession stand and she picked out popcorn, cherry icee and twizzlers. She was set and so we headed to theatre #7. We were the only ones in that movie and I was kinda glad bc I didn't know how she was going to act. She was so good and sat the whole time and snacked and would just crack up at some of the scenes. I was really happy that she made it thru the whole movie.
It was so much fun and I know she can't wait to go back!
(Avery is in this pose and fake smile for the camera phase. You will see in the pics)
Avery and Mimi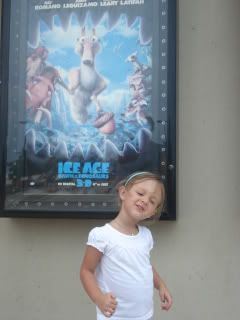 Standing in front of the poster
We just got inside and she is excited!!
She is more than ready for her movie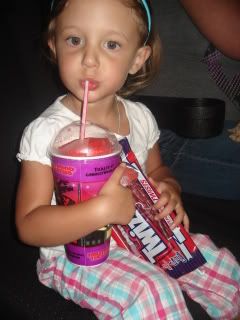 Yummy!!