I just love having a girl night and catching up on things! Ashley, Caroline, Selena and baby Ryann came over tonight. It was my first time to meet lil' Ryann and she is adorable:) Haidyn and Avery were both asleep by the time they got to my house, but I went ahead and woke Haidyn up for some pics bc she wouldn't mind. If I would have woke Avery up, she would have been pissed!! We sat around had some wine, talked and laughed about old times and decided to start celebrating the new year early w/ our party hats. I just LOVE these girls and I was totally looking forward to tonight. I think girls nights are very much needed every once in a while. Here are some pics...
Our little babies
They will be great friends :)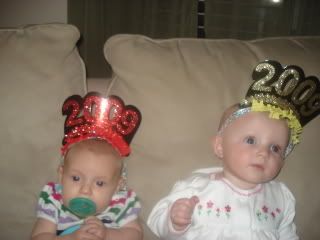 Hanging out on girls night
The girls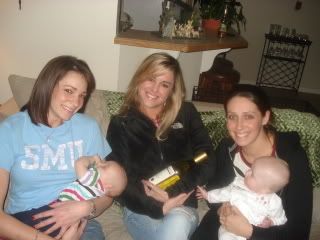 Caroline holding Ryann, Ashley holding her wine and Sels holding Haidyn. Haidyn is wondering what the heck Ash is doing!!