Saturday night my mom kept the girls for James and I. We have not been out in a while, so we wanted to hangout with our friends. It was The Pifer's, The Sim's, Aimee (my sister), Matt and his friend. We all met at La Fiest first and ate dinner and hungout. After dinner, we headed to the Westview Lanes and got our bowl on.
I have not been bowling in a couple of years and it was too much fun. We got there about 11 and the Extreme Bowling had already begun. The lights were all off, black lights on, music and unlimited bowling. I am def. not good, but I think my game improved as the night went on. Tiffany was really good and got tones of spares! James is really good, but he use to play in a league a long time ago! Aimee shocked me by how well she plays. She was 1 pin away from a Turkey (3 strikes in a row)and she def. kicked my butt. My arm was so tired after about 4 games and I had to quit and I def. felt it the next day. Those balls are so heavy and my weak arms really have to work to get it down the lane..haha! We bowled til about 1:00 am and then all headed home. I love nights like these and I want to go bowling again soon. We are even talking about joining a league...that should be interesting!!!
My Honey and I...
Us girls..
Me bowling..
James and Zach bowling..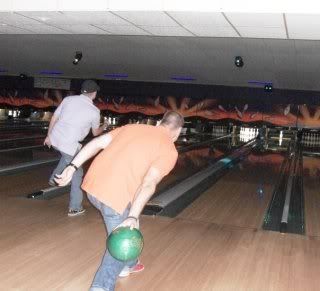 Me and My Tiff...