Well, mondays are one of James's days off and I didn't have to work today either, so we decided to take the girls to the zoo. We met Selena, sweet little Ryann and Jay up there. It was an absolute gorgeous day out, not too warm and a light breeze, I don't think it could have been any better!! Avery was soooooo excited to go and see all of the animals! She kept saying she wanted to see the elephants, monkeys, lions and the giraffs. She has already been to the zoo about 4 times and the yr. just started. She could go there everyday and it never get old. We took the double stroller, but it was kinda a waste bc Avery walked the WHOLE zoo. Haidyn liked the zoo too, but she doesn't really know what all is going on. She loves to be outside and she liked the aquariams, she really like little Ryann! We put them both into the stroller seat together and got some pretty cute little pics. Haidyn kept playing with Ryann's passy. After the zoo, the girls went over to my mom's and James and I went and had a nice dinner at Cheddar's. I just love that place and it was nice for us to be able to go eat together :) I took a ton of pics, but here are just a few...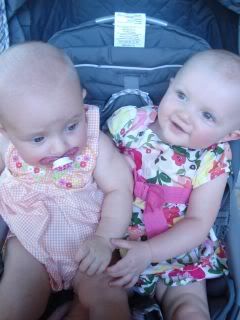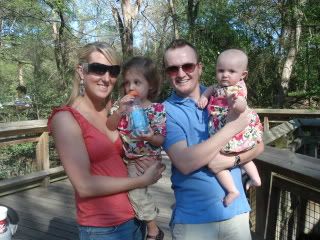 Our Family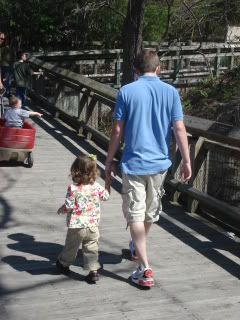 I think they are soo cute together :)
I think this picture is soo sweet of the two of them!!! Look at Haidyn's rasberries on her knees from crawling SO much!! Poor thing, I keep pants on her here at the house and put lotion on those knees. I guess it will take some getting use to for her knees.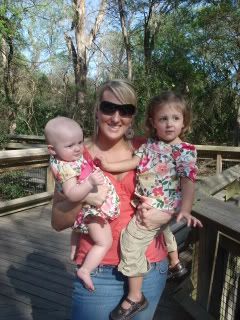 My girls
Ryann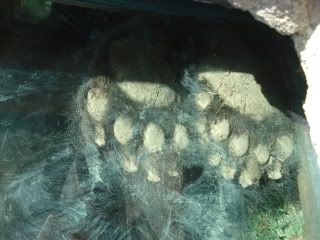 The bear was asleep right against the glass! I had to get a pic of his big paws!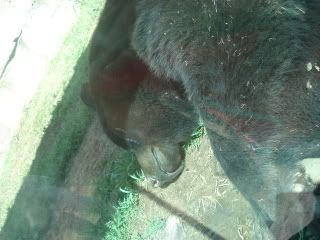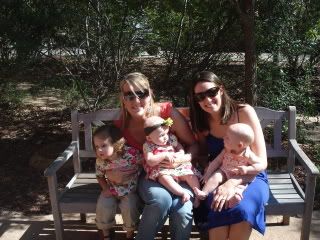 Sels and I with our babies
Av's ready to go!!