Just another wonderful Heard Family weekend!!! We always have fun on our weekends, but Easter fell in the same weekend and it made it that much better :)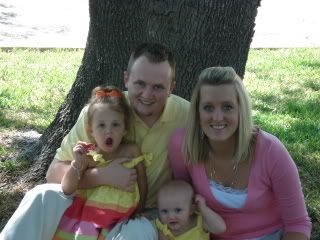 Friday-James was of course at work, so the girls and I woke up and went and ran a couple of errands, then came home and they laid down for a nap. Later, that afternoon we met James's grandma at Hewitt Park and played for a couple of hours. The girls just had a blast and so did I! Their favorite thing was the swings and Avery loved throwing rocks into the creek. After James got off of work we made a trip to the mall to see the Easter bunny. I was raelly happy with the way their pic turned out :). Before leaving the mall, we bought the girls Easter dresses at gymboree (and they are sooo adorable) and then we picked up some Chik-fil-a and it was yummy!! Here are a few pics..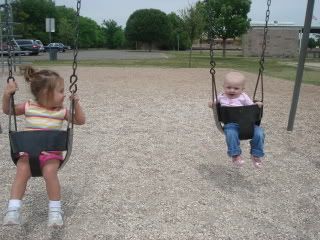 Our sweeties swinging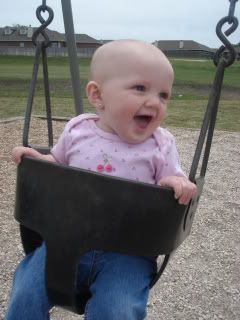 Passed out after an afternoon at the park and a nice bath!!
Saturday- James worked :( The girls and I got up, went and bought them some new bows, had lunch and bought some eggs for us to dye later that night. Dying eggs was quite the experience, let me tell you!! Haha...Avery was just sooo eager to do everything!! She had to dye a couple of eggs at 1 time,then wouldn't leave her egg to soak for a minute and then managed to knock over some of the dye cups. Haidyn sat in the highchair and watched all of the action. It was a fun experience and I can't wait till next year. Here are a couple of pics...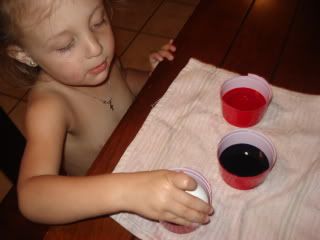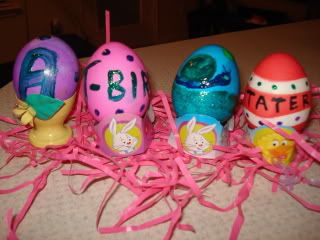 Ashley, James (J-Bird), Avery (snail), Haidyn (Tater)-The Heard eggs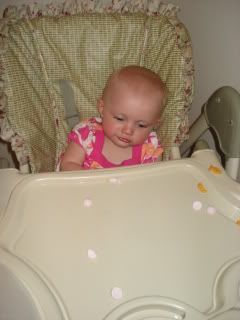 Haidyn just hangin' out watching the egg dying action
Sunday (Easter)- We got up got ready for church and the girls got into their easter basket from the bunny. After church we came home and relaxed for about an hour, then headed over to my grandma's house. We had soo much fun over there and the girls got easter baskets from my mom and grandma. They got lots of candy, clothes, toys, stuff for the pool this summer, bath stuff and money! After, they got their baskets we did an egg hunt for Avery and Haidyn sat in the grass and played with her eggs. Avery was all about that hunt! She LOVED it :). We ate some yummy lunch after the egg hunt and then went and sat on the back porch and the ladies visited, while the men watched the Masters. We left my grandma's and headed out to Lorena to James's grandparents house. We ate dinner out there and watched the kiddos play outside. They did another eggs hunt and Avery helped her Papa with some yard work. She LOVES her Papa and they are soo cute together. We then came home and my dad and step-mom came over to bring the girls their easter stuff and played with them for a while. We are now just relaxing, the kids are asleep and just got done with the Rock of Love Bus finale and I am pissed with who won!!!! BOOTLEG! Haha.. Well, there was our fabulous weekend and I just loved every single second with my sweet family :) Here are our pics from today...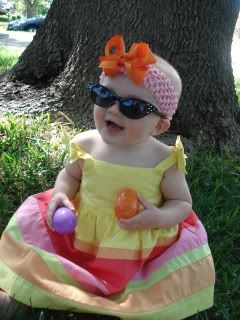 My other Diva!!
Av's playing with her eggs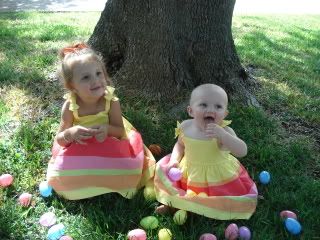 Our beautiful girls
The Heards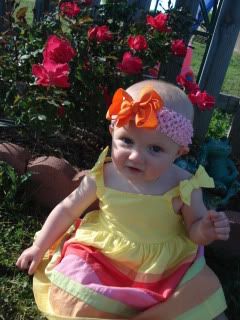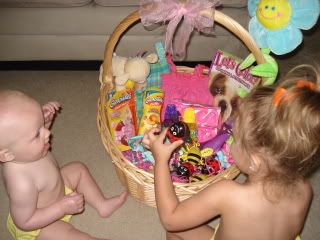 Getting into their easter basket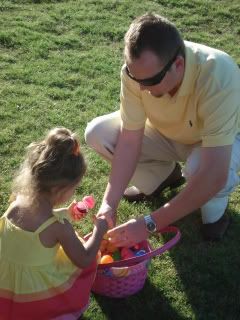 Daddy helping Avery with her eggs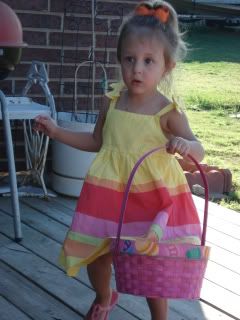 Egg hunting
A photo that I edited