We had a really good weekend. It started out on Sat. with the March of Dimes walk. We walked 3 miles and the girls had a great time. We met at Satrbucks before the walk, to get us some coffee bc it was kinda early! After, the walk Avery jumped in the bouncy house and she LOVED it. They got some popsicles and we went home. Thank you Tiffany for helping me out with the girls :) Here are a few pics...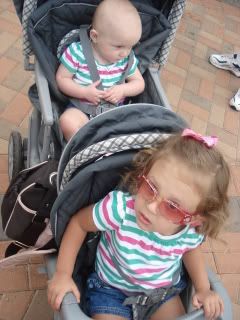 My girls-ready for the walk to begin
Carson and Haidyn checking out the Chik-fil-a cow
Avery enjoying a nice popsicle after the walk.
Tiffany sharing her popsicle with Haidyn....so sweet!!
Sunday, we all kinda slept in bc we woke up soo early on Sat. We just played most of the morning and the the Nascar race came on and James's dad came over to watch. Avery loves her Papa! While the race was on, us girls all napped and when we woke up the race was over. It was still kinda early in the day and we decided to go fishing. We bought Avery her 1st fishing pole the other day and she is obsessed with it. It is a Dora fishing pole and she thinks she has to carry it around everywhere. She even fell asleep with it the 1st night we bought it for her. We went out to Axtell to fish and it was absolutely a beautiful place!! The dock is all wired up with big lights, radio, had a fire pit. It was great. They were catching fish left and right-mostly catfish. Avery went over and fed the cows thru the fence and she was soo excited. When it got dark we built a fire and roasted some marshmallows, hung out for a little longer then headed home. I think we are going to go fishing again this weekend and I can't wait!!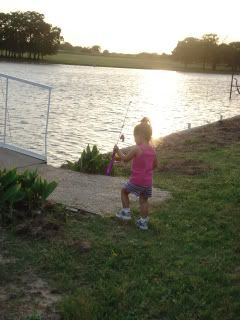 Avery carrying her fishing pole to the dock.
Tators sitting on the dock.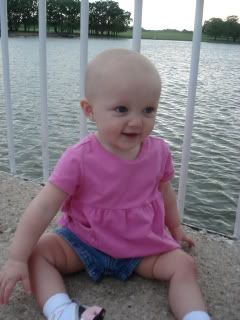 She really liked it out there.
Mommy and Avery.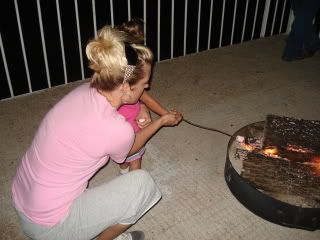 Mommy helping Avery roast her marshmallow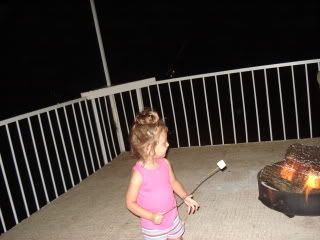 Av's doing some roasting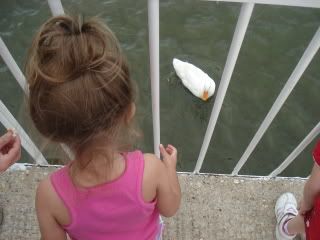 Avery feeding the duck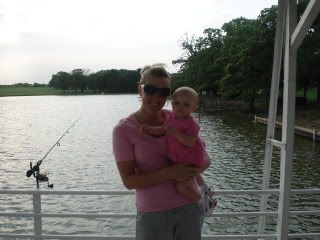 Mommy and Haidyn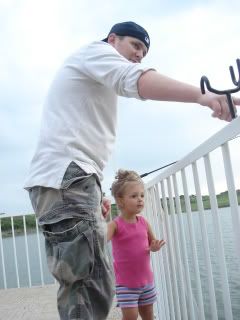 Daddy showing Avery the fish
The cute little baby cows!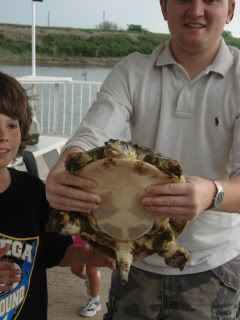 The big turtle we caught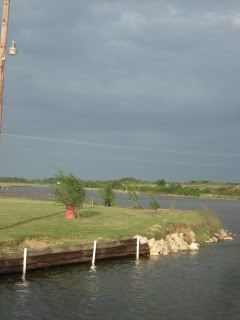 I just thought the place was so pretty
Gorgeous