Friday night, we met the Pifer's at La Fiesta for a dinner/small bday celebration for Zach and we had too much fun!! We had a small wait when we got there, so we sat at the bar and Tiff and I ordered Texas Twister Margaritas (Sangria swirls) yummy and the guys ordered a beer. We then quickly got seated and I think we got the smallest booth in the whole restaurant!! hahahaha...I think Zach was sitting more in the isle than our actual booth. We had the craziest/weirdest waiter possible!! He would talk sooo fast and move his mouth really crazy and Tiff and I could understand a thing he said!! I mean; we would try and read his lips and that wasn't even possible. We ordered the table side guacamole and me and Tiff basically made it ourselves-SERIOUSLY!! It was delicious, but he asked us about what ingredients and how much and if it should be chunky or more runny?!?!?!!? It was nuts! Our dinner was delicious and we had a couple more drinks, Tiff and I went to the ladies room and we came back and the guys told us we were going to Crickets. That totally wasn't in the plans, but we were wanting another drink and to play some shuffle board and then call it a night. We got to Cricket's ordered drinks, the guys did some shots for Z's bday and then Tiff started feeling weird. Zach went outside with her and she went and sat in the car for a min., so Z came back to tell us what was going on. Well, I told Zach to finish his drink and I would go and keep Tiffany company and we had SOOO much fun!! We ended up sitting in the car for about an hour to an hour and a half. We were talking about anything and everything, we spotted "Texas" and "chicken legs" on her sunroof in raindrops...hahahaha, the moon was really close too!! hahahaha....the guys came out and were SMASHED!! They were too funny and needless to say us girls drove home. It was a great night and I just love hanging out with those two. I can't wait for next weekend. Here are a few pics........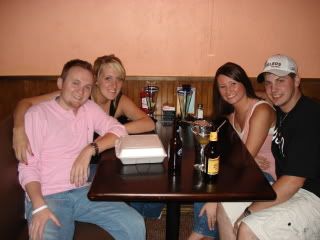 Us at La Fiesta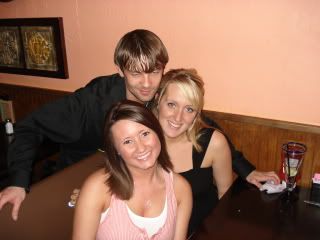 Tiff and I with our waiter. We just HAD to take a pic with him and now you can see what we were talking about!!!
Tiff and I at Cricket's
Happy bday to Z shots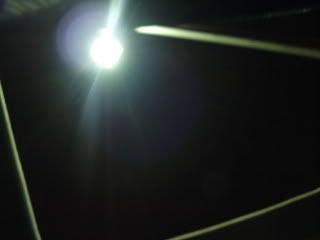 "OMG...look how close the moon is!!",-Tiff
That's our men!!!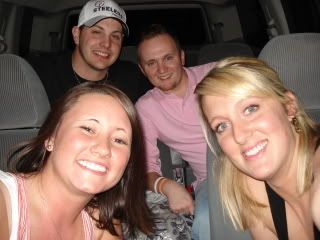 It took about 5 pics to get them to take a serious one!
I LOVE this girl!!