We had such a wonderful and relaxing weekend!!
It started off friday night, James got off of work and we went to the mall. James had to get a quick haircut, so me and the girls went to the little play area and had a blast. Avery LOVES playing in that little area and slide and go thru the tunnel. James had to wait like an hour to get his haircut, finally he was done and we decided to pile into the photo booth and take a pic. That was tricky!! Haha..trying to get the girls to look in the right spot and position them was interesting!! After the mall we went out to Lorena and visited with his mom and sister. They came down for the weekend to visit us, we stayed for a couple of hrs and came home bc James had to work the next day. Saturday, me and the girls slept til 9:30 and then just played all morning, Haidyn took a quick nap and then we got dressed and left the house. I took them to play at the park for a min. and then thought taking them to woodway park by the lake would be neat. Avery has been to lake before, but she was barely 1 and didn't really know what it was. We pulled up and OH MY..she was SOOOO excited!! She just talked about the water, fish and boats that would go by. She had a blast throwing rocks into the water and decided to take her sandals off bc she wanted to put her feet in the water. She stood there for a long time and I held onto her bc she was wanting to go all the way in and I would not let her!! She is soo ready to swim and play. We watched some kids fishing and are going to probably go back next weekend and have a picnic and James is going to take her fishing for the 1st time. Haidyn slept thru most of the time we were there, but woke up before we left, so I got her out of her seat and let her look at the rocks and water. She didn't know quit what to think of everything. I am excited for summertime with the girls! After, the lake we came home and met James and just relaxed for a while. James told me that he arranged for his mom to watch the girls, so he could take to dinner and a movie :).
Well, I don't know if everyone knows about mine and James's story, so I will quickly explain. James and I were "bf and gf" in the 4th grade to the beginning of the 6th grade, when I had to move away to Valley Mills. Well, I returned in the 8th grade and he was dating someone and we really kinda acted like we didn't know each other. He then moved away in the 9th grade and I didn't really know where he went to. Well, when we were sophmores our sisters ended up playing on the same softball team. It was sooo weird that it had happened like that. Well, we finally said, "hey" to each other and just became really close friends. We would talk for forever on the phone everyday and just hangout at the games together, but never went to do anything outside of the softball fields. He still was not attending Midway and we both had our seperate group of friends. The more we hungout with each other and got to know each other, we really started developing feeling for each other, but didn't want to date and it not work out and it ruin our friendship. Well, then we both started dating other ppl. and we would see each other with someone else and we HATED it!! From, then on we decided that we were willing to take the risk to be with each other and I am SOOOOOO glad that we did!! I think it was total fate that our sister's were on the same softball team!! It is soo weird to think where my life would be at right now, if just say my sister happened to not play that yr.?? He didn't plan on coming back to Midway, but bc I was there he did. Anywho...our 1st time to hangout and go do something outside of the softball fields, was to go to a movie. It wasn't a date, it was us just meeting up there and just being friends. I took my sister with me and he brought his brother with him. Well, the 1st ever movie we saw together was Fast and Furious. Well, the new one came out this weekend and he wanted to go and see it with me bc it was our 1st movie together :) I know..it probably doesn't sound like a very romantic movie or anything, but I love it and mostly bc it was our 1st movie and it was with James. So, we went to eat at Red Lobster last night and then headed to a 10:10 showing of Fast and Furious. We stand in line to get our tickets and they were totally sold out of F&F!! BOOOOO...well, we still wanted to see a movie and heard that I love you, man was suppose to be really funny and boy was it!!! We laughed the whole time and my stomach hurt from laughing!!! It was great and we are going to go sometime this week to watch F&F.
After, the movie we went to pick up the girls and came home and crashed. Today, we got up and went and had breakfast and then came home and just lounged. I did some laundry and some cleaning, but nothing major. All in all, it was a fantastic weekend!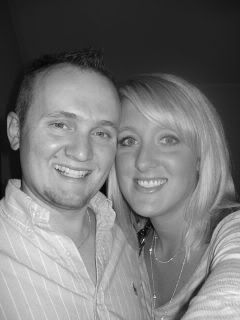 Me and my honey before our date :)
Haidyn checking everything out.
Sweet girl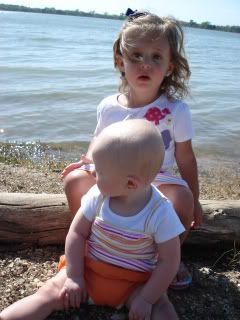 Our girls
Putting her toes in the water for the 1st time..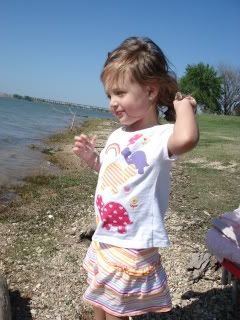 Throwing rocks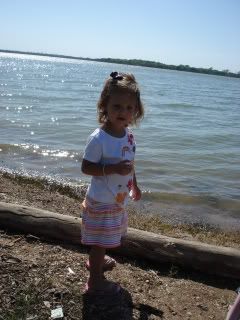 Looking for fish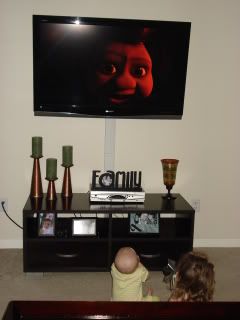 The girls watching Shrek tonight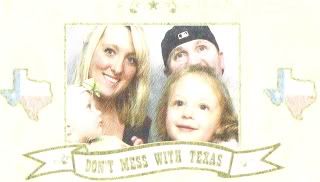 Our mall photo booth drawing