Haidyn got her big girl carseat for her birthday, from her Lala. Avery's is pink and brown and I wanted for Haidyn's to be the same colors. It is really cute and Haidyn absolutely loves it! I still feel like she is just too little be facing forwards and to be sitting upright, but it is time. She likes being able to see everything in front of her and Avery likes for her to be facing forward too. They both are able to interact with each other more.
Tator's eyes in some of the pics are swollen looking and today she is running a low grade fever, has a runny nose and is hoarse. I guess maybe her allergies are bothering her :( I am going to continue to monitor her fever and other symptoms and will take her to the dr. if they get any worse. If not, then I will just ask the dr. to check her on Friday at her checkup.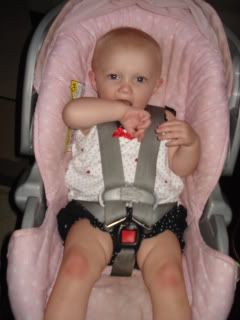 Last time in her baby carseat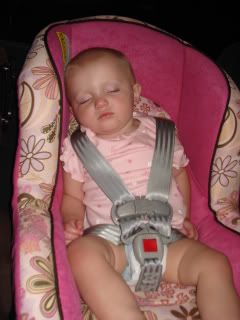 1st time in her Big Girl carseat and she was asleep for it!
1st ride awake and she loved it!
Looking at Daddy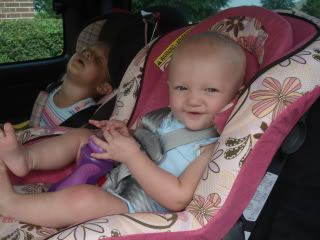 We were at our destination and Avery was passed out and Haidyn was as happy as could be.