Today, we had Haidyn's 1 yr. check-up and everything went really good!
The dr. said, that she is a very smart little girl and she is advanced for her age. He said, that she is doing alot of stuff that 15 month old babies do. Haidyn weighed 7 lbs. 5 oz. and was 19.5 in. long the day she was born. Her weight today at her checkup was 20 lbs. 3 oz., she was 2ft. 4 in. and her head circumference was 44.2 cm.. She was in the 45th percentile for height and weight. She had to get 5 shots and her finger pricked for a blood count test. She cried so hard and it was so hard to see her go thru the pain. I was sick at my stomach all morning knowing we had to get shots. I took Avery with me and it was her 1st time to go with me, when Haidyn had to get shots. Avery DID NOT like it when they were making her sister cry!! Avery would cry and yell at the nurse, "NO, NO, STOP HURTING SISTER"!!!! It was sweet and Avery LOVES her little sister.
I asked the dr. about her carseat needing to face the back, and he told me that they are recommending that they face the back until the age of 2, but it is not law yet. So, I am guessing she will be flipped around. Thank you Courtney for informing me of that!!
Haidyn did really well all day and didn't act like her legs were bothering her to much. This evening she got a little cranky bc I think they were alittle sore, so I gave her some baby motrin, a nice warm bath and she is now sound asleep. I pray that they don't bother her tomorrow.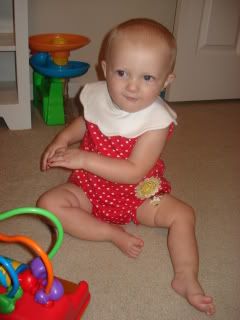 Playing in her room after her checkup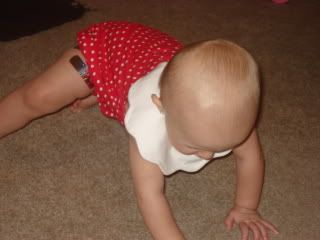 Not even acting like her boo-boo's bother her.
These are just 3 of 5 bandaids she had on her legs