We had such a relaxing and fun family weekend. It seems like the past couple of weekends have just been so hectic and lots of stuff going on, it was nice for it to be just us!!
Friday night- After a hot day at bootcamp and James having a hard and hot day at work, we just sat at home and relaxed. The girls were in bed pretty early, so James and I just hung out and enjoyed the peace and quiet. Every friday night we watch a show called Whale Wars on the Animal Planet. We just love it!! It is soo great to watch these ppl. risk their lives to stop the Japenese from whaling!! Too GOOD!
Saturday- I worked til about 2:00 and James got off pretty early too. We hung out at the house until it cooled off alittle bit and then took the girls over to the water park off of Chapel Rd. They had a blast! Avery was alittle aprehensive about the water at first and that is not like her at all. Tator's was all about it and just going thru the water spouts and was totally fearless. She is walking a little bit, but not enough to walk thru the water by herself. I had to help her walk around, but then she got tired of me holding onto her and she wanted to go on her own. I know I have my hands full with this girl. Avery was all about the water after a few minutes. There were alot of little ones running around everywhere and I am glad the girls had a good time. After, the water park we went and got a few groceries at HEB and came home, cooked dinner and just had another relaxing night.
Sunday- Father's Day....I woke up with the girls and we let James sleep in. I made some yummy breakfast for all of us and Avery went into our bedroom and gave James is breakfast. James ate and back to bed he went. With it getting so hot out, his job takes alot out of him and Sunday's he usually likes to just rest and be lazy. I figured since it was Father's Day and he hasn't been able to rest the past couple Sunday's, he could sleep all day if he wanted and that is what he did. Me and the girls played outside in the pool and they layed down for a nap and I got to layout some more. After the pool we went and saw my dad for a little bit and came home got James and headed to my mom's for a cookout. It was delicious and we all just sat around and talked, ate and laughed. It was a great day and I know James was sooo glad to catch up on the rest. We love you honey and you are the BEST DADDY IN THE WHOLE WORLD AND THE BEST MAN THAT I COULD EVER ASK FOR!!!!!!!!!!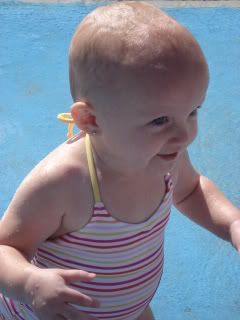 She loved it!
She loved it too!
Tator's made a friend
Me and my girls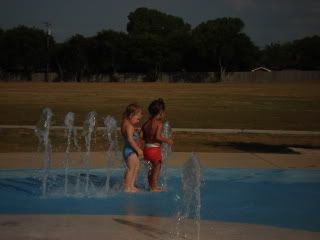 Playing in the water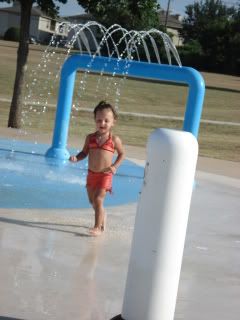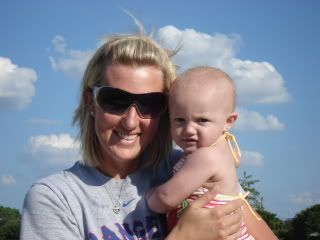 Me and Tator's
Daddy and his girls
They are my world
He is so good with them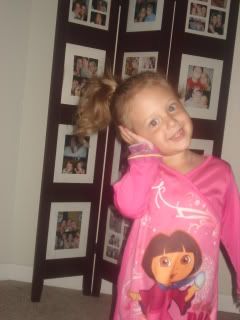 haha...posing for the camera!!