At Haidyn's party, a couple of family members thought that Avery needed gifts too, so she didn't feel left out. The girl is SPOILED!!! One of the gifts she got was a Dora Slip-n-Slide.
Avery would live outside in the water if I would let her...seriously! She wakes up saying swimmin' pool or she would take 10 baths a day bc it meant being in the water, I have to sneak and take a shower bc she thinks she needs to get in there too. You should see the way her little eyes light up when I ask her if she wants to go swimming. It is so adorable. So, to have Dora (her favorite cartoon ever) and a water contraption in 1, is like the best thing to ever happen to her!!! hahaha...we put it out in the front for them on Sunday and they had so much fun. Haidyn, would just sit there at first, but then started crawling up and down it and slippin' around. Avery learned towards the end how to run and slide. Avery would run and slide towards Haidyn and they would both just crack up. It was alot of fun to watch them and I have to say, Thank you to James's sister for the wonderful gift.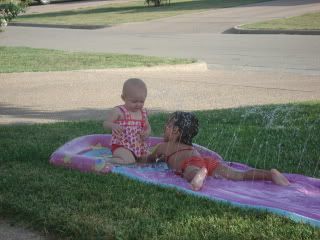 This face makes me laugh!
Our sweet girls
OMG....she loves it!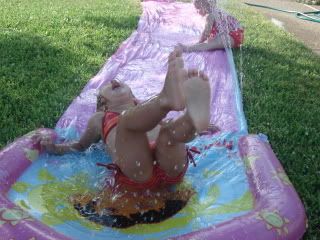 Caught her sliding in action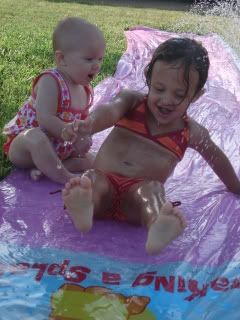 They are just so sweet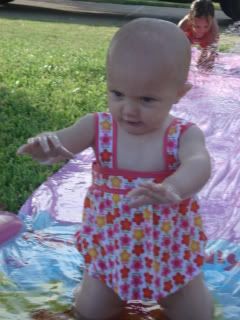 Haidyn wearing her new swimsuit
:)